Astroloc Combo Suit

Contained Build available!
Vital statistics
Name
Astroloc Combo Suit
Species
Glyan
Origin
Selogo
Details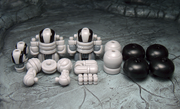 Introduced as a way to expand design possibilities to existing Glyos accessories,
Contained Builds
use existing parts and present them in a brand new way.
Astroloc Combo Suit uses 2 Hub Sets, 2 Phase Arm/Gobon Blaster sets, 1 Axis Joint Set, 1 Wheel Set, and 1 Swing Joint Set.[1]
The variations without the Wheel Set are called Combo Suits.
Encounter on Selogo
Astroloc Combo Suit
Special edition build includes 2 Hub Sets, 2 Phase Arm Sets, 1 Swing Joint Set, 1 Axis Joint Set and 4 wheels. Comes assembled in new Astroloc form. 73 total parts. $22
References