Gendrone Voyager - a division of the Gendrone Rebellion.
Indigenous Lifeforms
Edit
One piece of Argen's Arc follows his journeys to various exotic and mysterious locations, as he searches for ways to adapt the forms and skills of different creatures into his core program, to share with his Gendrone brethren. Like a cosmic nature hike where Argen can transform into a mechanically based version of a select critter and experience how that entity truly lives, expanding his own spectrum of understanding.[1]
Claw Stalker
Edit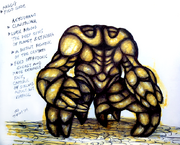 "
Argen
studied the creepy Claw Stalkers deep down in the dark caverns of the Planet
Reydurra
, adapting his structure in an effort to duplicate their incredible natural climbing abilities."
[2]
Argen's Field Guide: Reydurran Claw Stalker
Edit
"Lurks around the deep ruins of planet Reydurra. A distant relative of the Crayboth. Feed off psychic energy and move extremely fast, capable of scaling almost any surface."
Jump Hunter
Edit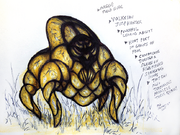 "Known for their hyper powerful leaping abilities, the Jump Hunters of Planet
Volkria
proved a deceptively difficult species for
Argen
to try and learn from."
[3]
Argen's Field Guide: Volkria Jump Hunter
Edit
"Powerful leaping ability. Hunt prey in groups of four. Communicate through a series of high pitched shrieking sounds that can also temporarily paralyze their quarry."
Rock Stinger
Edit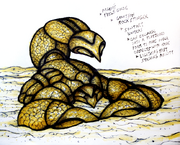 "With a vicious strike that is widely known across the System as one of the deadliest, the
Granthan
Rock Stinger seemed surprisingly at peace with
Argen
's presence, much to the relief of the curious
Gendrone
."
[4]
Argen's Field Guide: Granthan Rock Stinger
Edit
"Solitary hunters. Can collapse into a flattened form to move under objects with ease. Lightning fast striking ability."
Grip Strider
Edit
"
Argen
's connection to the Planet
Rilleco
runs very deep, and quite often he finds himself returning to the dark and mountainous world in search of solace. Watching the indigenous lifeforms simply cycle through their patterns brings Argen a great sense of peace in an otherwise trying time."
[5]
Argen's Field Guide: Rilleco Grip Strider
Edit
"Exists in the shadows and caves of Rilleco. Can store energy gathered from lightning storms. Uses a unique bio laser for breaking through rock while searching for various prey."
Explorations
Edit
Explorations II
Edit
Explorations III
Edit
Walkabout
Edit
Hierarchy
Edit
Gendrone Voyager Command
Edit
References
Edit
Ad blocker interference detected!
Wikia is a free-to-use site that makes money from advertising. We have a modified experience for viewers using ad blockers

Wikia is not accessible if you've made further modifications. Remove the custom ad blocker rule(s) and the page will load as expected.