Story
Neo Tracker Unit - a division of Glyaxia Command.
Neo Tracker Unit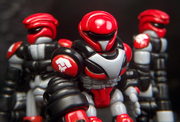 "Tasked by
Glyaxia Command
with the investigation of a mysterious disturbance near
Outpost Odesskar
,
Tracker
journeys with two specialized
Glyan Commandos
to the remote destination, located just inside the classified "Vector Triangle"..."
[1]
"Specially trained in the the esoteric discipline of Dimensional Relativity and biologically augmented to operate at a Traveler's pace, the Glyans selected for duty within the Tracker Unit are some of the rarest soldiers in all of Glyaxia Command.
Though they represent the very best of the Glyan Forces, Tracker is secretly wary of his new partners, harboring suspicion about their true mission objectives."[2]
Gallery
Into the Vector
Hierarchy
Neo Tracker Unit Command
Neo Tracker Unit Members
References
Ad blocker interference detected!
Wikia is a free-to-use site that makes money from advertising. We have a modified experience for viewers using ad blockers

Wikia is not accessible if you've made further modifications. Remove the custom ad blocker rule(s) and the page will load as expected.